Saturday, March 6, 2010
Welcome Ying Gao!!!!
Team Wild Mama is please to announce the addition of Ying Gao (Laura) as our third team member for the 2010 Air Race Classic. Laura is a Chinese National only 2 years in the United States and she has already embarked on her piloting career having soloed with less than 20 hours!!! We look forward to flying with her for the race.
7:26 pm est
Wednesday, July 1, 2009
W.A.S.P. in Washington
Bernice "Bee" Faulk Haydu (Air Race Classic #26) received a call from Washington yesterday on her flight home from the 2009 Air Race Classic. When they landed in Macon, Georgia, to refuel the call of a lifetime came in. Bee was asked if she could be in the Oval Office at the White House at 4:30 P.M. on July 1st to witness President Obama signing into law the Bill for the WASPS to receive the Congressional Gold Medal of Honor for their unselfish service in World War II. This has been a long, hard fight for the WASP. They have been working on this bill for the past 30 years. It passed the House and Senate just weeks ago and was in the Finance Committee.
The team dropped co-pilot, Susan King, off in Keystone Heights, Florida, and headed to Jacksonville, Florida, to do laundry, press Bee's Dress Uniform and repack her for Washington. She caught a flight this morning (July 1st) and 11:25 A.M. and is one her way to finalize the dream of all WASPS.
Wings of Dreams Race team (Air Classic #26) had one mission in this 2009 Air Race. It was to bring awareness to the WASPS and their contribution to our country. MISSION ACCOMPLISHED!!!!!!!!!!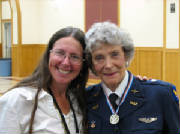 Pictured: Terry with Bee Haydu at the conclusion of the 2009 Air Race Classic
10:23 pm edt
Saturday, June 13, 2009
On the Road Again ...
We departed yesterday from FL and have made it to Sterling, CO now. Follow our daily blog on the 2009 ARC page.
9:49 pm edt
Monday, June 8, 2009
The Sound of Silence
12:38 pm edt
Saturday, May 23, 2009
Wild Mama returns from TN
After a beautiful sunny, cloudless week in Tennessee, Wild Mama braved the storms over Florida to head back home. She needs to get her spa treatment and other work so she can be ready for the race. Terry and Vern should be departing around June 13th for the Air Race Classic adventure after another trip out to Jackson Hole, WY - a little vacationing before the race this year. Stay tuned to the 2009 ARC pages for the whole 2009 adventure starting with the vacation.
6:09 pm edt