JO ALCORN
: Congratulations to our newest commercial pilot! Jo reports: "It hasn't settled in yet since I've been so absorbed with prep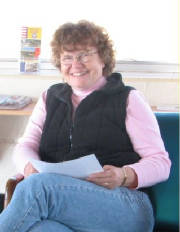 .
After everything, it's like getting off a fast moving train to a dead stop." Dead stop nothing!!! Keep on flying high, girl.
*
*
*
*
*
DOMINIK ALKE:
Bragging rights are international; and what better international flyer than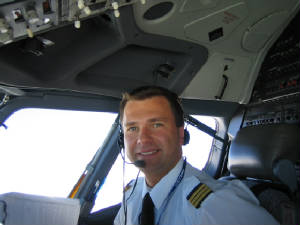 Dominik. He took some training here in the U.S. and returned for a visit recently where he flew a 172 all over south Florida and the Bahamas. He completed all this before his return to Germany to take a job with Futura as the First Officer on a 737. Flying with the Big Boys, now. Quite impressive. Good luck and we await word when you make Captain!
CARA BALDWIN:
Another of the Baldwin clan takes to the skies. After flying 2 air races as the BFF - Baldwin Family Flyers - the third generation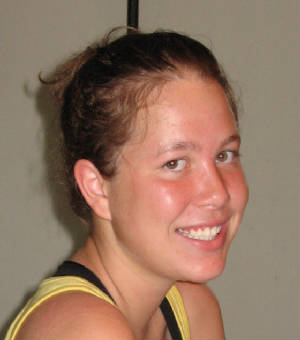 pilot Cara Baldwin, has now Soloed!!!! Congratulations, Cara. We look forward to more updates.
* * *
LYDIA BALDWIN Skies over Colorado look out as Lydia just soloed! Lydia has been working very hard at her flight training and is hoping to have her license by the time she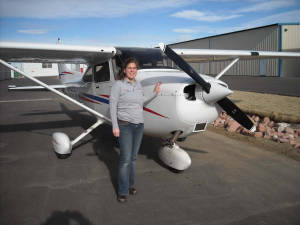 flies in her first Air Race Classic as part of Team Wild Mama. We wish Lydia continued success - be sure to tear up ALL the sky you can find!
NEWSFLASH: Lydia just completed her solo cross country on a beautiful Colorado Sunday afternoon (February 15th). Keep going, girl, you are almost there!
NEWSFLASH: Keep going, Lydia, you are almost there. Lydia just passed her private written exam today (May 23rd). I can see your wings growing in leaps and bounds!
NEWSFLASH: Congratulations to our newest lady pilot. Lydia passed her private check ride today (August 6th)!
ROGER BENNETT: Congratulations to Roger on the purchase of his really nice Cessna Cardinal. We all fetched it from NC this weekend and had a spectacular return trip through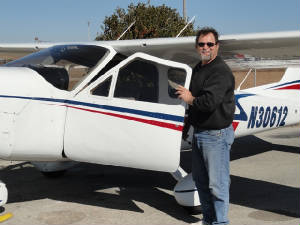 beautiful weather. Roger is still a student pilot, recently soloed, I might add, who plans to complete his training in this plane. Wise choice, Roger. We will be looking for you to finish up and get your certificate soon!
*
*
*
*
*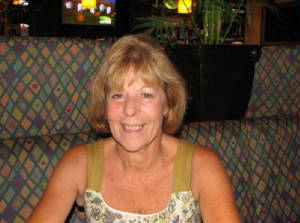 PATTY BERG:
Congratulations, Patty for soloing a Cessna 152 and 172. We are anxiously awaiting to hear about your solo cross country and your up-coming check ride. We are proud of you and we are all behind you in achieving your dream!
Update:
Patty has finished all of her requirements and we are awaiting word about scheduling her check-ride. All fingers are crossed - good luck!
JUDY BOWSER:
Congratulation on earning your instrument rating, Judy. We al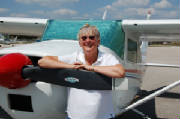 l know how hard you worked for it and how long it took. You did it! You earned it and we are all proud of you. . . now go use it!
SUSAN CARASTRO: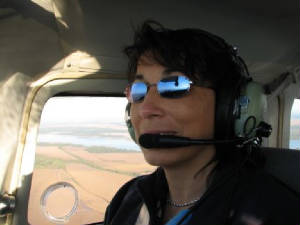 In addition to being racquetball player extraordinair, Susan is also our newest CFI! Bet ya didn't know I knew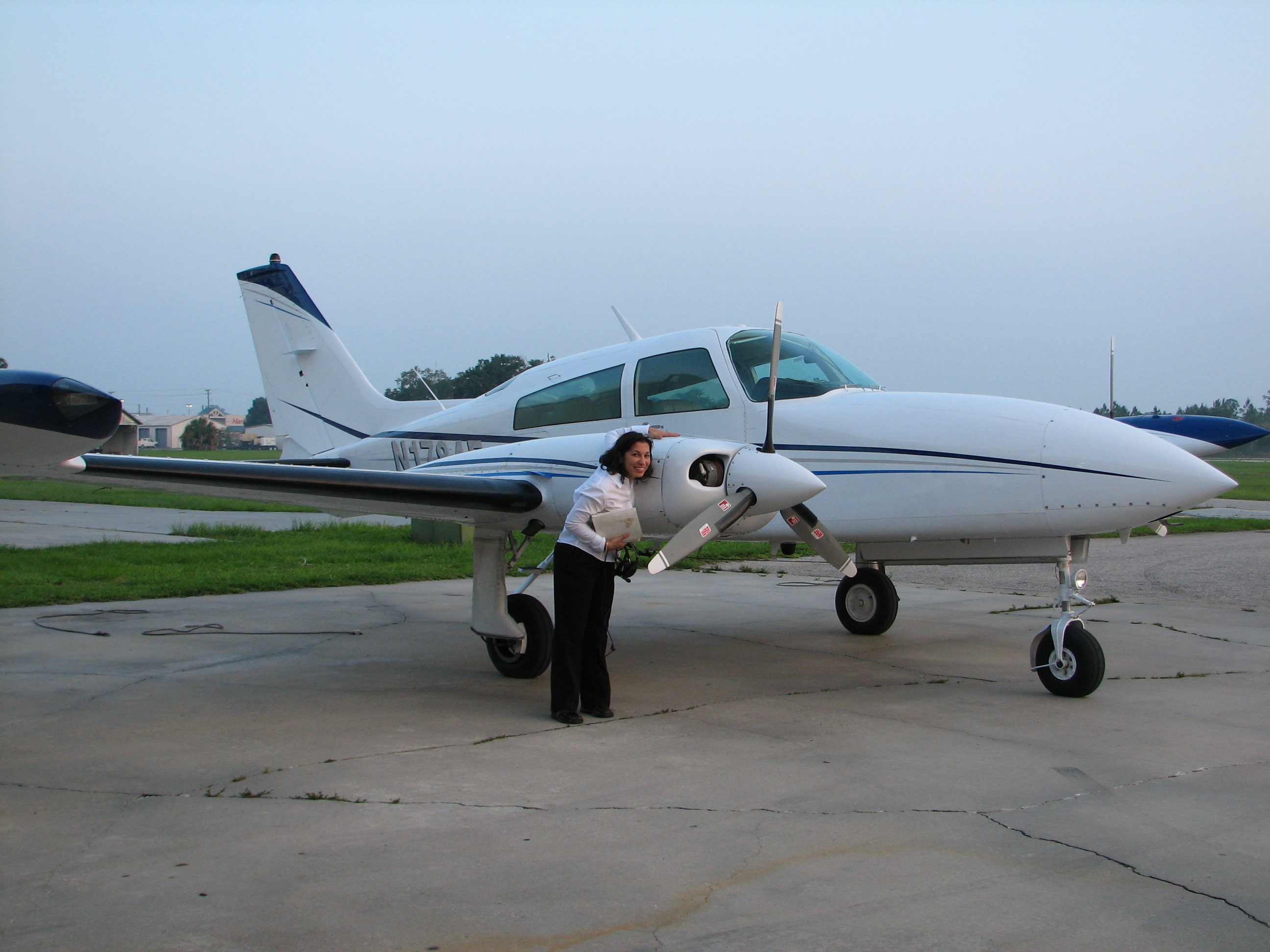 since you failed to mention it to anyone. Congratulations to Susan!
NEWSFLASH: No secrets around here - look at the new toy. Susan "gave birth" to a 310R late yesterday afternoon. Check out the smile!
***
NEWSFLASH
*** Terry wins a scholarship to complete her multi-engine commercial instrument training. Training should be starting some time this spring.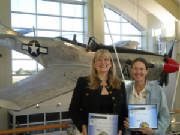 Thanks to
Paradise Coast Chapter 99s
for the boost! Paradise Coast also awarded a scholarship to Myra Bugbee for flight simulator training. Congratulations to both ladies.
*** NESFLASH***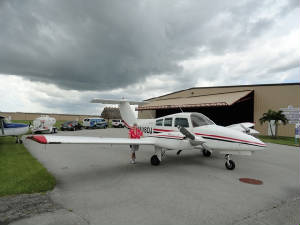 Terry earns her commercial multi-engine instrument rating. Thanks to Brandon Pena and Jacobs Flight Services for great instruction on a really nice plane.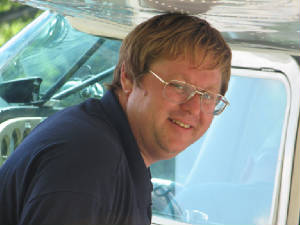 VERNON CONLY:
After years of putting it off, Vern finally got his single engine commercial license so he could complete his single engine sea plane rating in Maine. Congratulations to Vern for FINALLY getting his aviation dream!
SUMMER CORBITT:
Look who has soloed. Summer is in LaBelle and she and her brother have a really nice Cessna 172 that Summer just soloed this fine November day.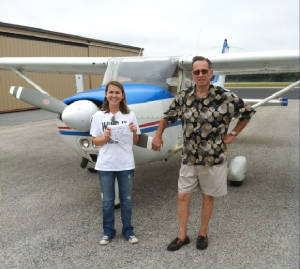 Congratulatins to Summer and we will update your progress as you get your certificate!
NEWSFLASH
: Summer was the winner of the Wings Over Paradise scholarship given by the Paradise Coast Chapter 99s. Congratulations, Summer! Now, git 'er done!
*
*
*
*
*
*
MIKE COX: High 5's all the way around for Mike who just passed his check ride for his PRIVATE PILOT. Mike has been working diligently throughout the last several months and even got himself a nice 182 for his flight training and beyond. We look forward to seeng Mike come and go from LaBelle often and wish him blue
skies, tailwinds and lots of fun flying out on his own now. Way to go, Mike!!!!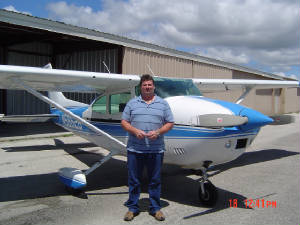 FRANKIE DUPRE:
After a long desire of wanting to take the first step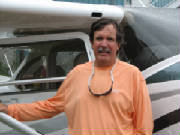 toward learning to fly, Frankie has started his flight training and has accumulated more than 10 flight hours. He just accompanied
Wild Mama
and crew to Sun-n-Fun where he got his first IFR flight; took a spin in the FAA spacial disorientation chamber and saw more airplanes and airplane stuff than he could imagine. Congratulations, Frankie, and keep up the good work.
NEWSFLASH
: Guess who just soloed? Keep up the good work!
NEWSFLASH:
Frank is well on his way to his private license having completed his written and his solo cross country. Almost there, Frank!
NEWSFLASH:
You knew it was coming... Congratulations, Frank, on earning your private certificate on June 27th! Great job!
KATE & HALEY DUPRE:
Not to be out-done by dear 'ole Dad, Kate, celebrating her 12th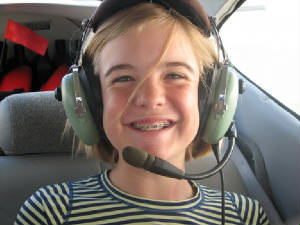 birthday, accompanied by her sister, Haley took her first airplane ride in a small plane. In celebration of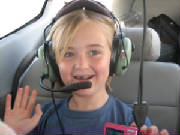 the birthday event, a brunch at Key Colony was in order, plus flight-seeing over the Keys, the Everglades and Sanibel. Way to go Kate and Haley - you will riding lots more with Dad
soon
!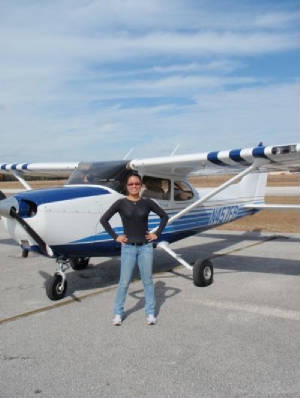 Laura Ying Gao: Laura has earned our hearty congratulations on her solo. But not only did she do it in less than 16 hours, she had the additional challenge of having to learn English and the ways to the US along with it. Welcome to the US and we are glad you are flying high with all of us now Laura. We will expect great things to come from you!
*** NEWSFLASH *** Laura just passed her check ride on April 23, 2010 and celebrated by flying her husband, Matt to the Love's Landing Grasshoppers flyin the following weekend. You go, girl!!!
**** NEWSFLASH **** Laura now has passed the instrument written and the instrument ground instructor. Kepp it up girl - you are flying high!!
*** NEWSFLASH **** You knew it was coming. On June 30, 2011, Laura passed her instrument check ride - quite an accomplishment. Way to go, partner!!!
***NEWSFLASH***
Bernice "Bee" Faulk Haydu (Air Race Classic #26) received a call from Washington yesterday on her flight home from the 2009 Air Race Classic. When we landed in Macon, Georgia, to refuel the call of a lifetime came in. She was asked if she could be in the Oval Office at the White House at 4:30 P.M. on July 1st to witness President Obama signing into law the Bill for the WASPS to receive the Congressional Gold Medal of Honor for their unselfish service in World War II. This has been a long, hard fight for the WASP. They have been working on this bill for the past 30 years. It passed the House and Senate just weeks ago and was in the Finance Committee.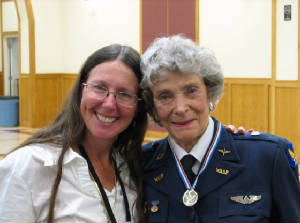 The team dropped co-pilot, Susan King, off in Keystone Heights, Florida, and headed to Jacksonville, Florida, to do laundry, press Bee's Dress Uniform and repack her for Washington. She caught a flight this morning (July 1st) and 11:25 A.M. and is one her way to finalize the dream of all WASPS.
Wings of Dreams Race team (Air Classic #26) had one mission in this 2009 Air Race. It was to bring awareness to the WASPS and their contribution to our country. MISSION ACCOMPLISHED!!!!!!!!!! Pictured: Terry with Bee Haydu at the conclusion of 2009 Air Race Classic.
Bee Haydu, Classic 26, watches as President Obama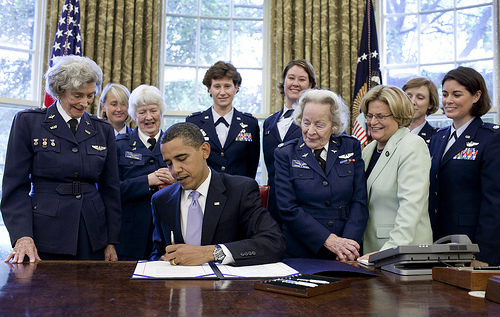 signs the Bill giving WASP's the Congretional Medal of Honor!
SUSAN KING
gets our most heart felt congratulations for passing her private pilot check ride this afternoon. Susan really put the pressure on herself as she signed on to the 2009 Air Race Classic, leaving that small detail of her pilots license until the last minute (yes, Susan - 2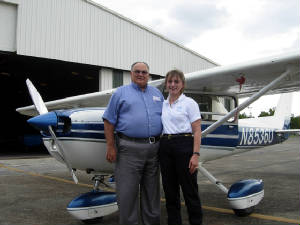 weeks until race time). As a newly minted pilot she will join Christy Smith and WASP, Bee Haydu on the adventure of their lives. Way to go, Baby Bird!!
SHERRIE LORENZ:
We have your smiling face as we offer our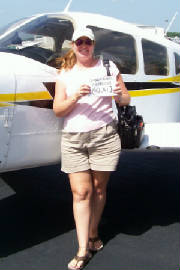 congratulations for passing your Instrument Written Exam. You go, girl! Keep up the good work and tell us when the check ride has been passed. We are all there with you in the cockpit.
ELI MENDES:
Congratulations to Eli for just completing a 3 week trip from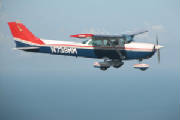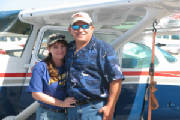 SW Florida to Maine in his 172 and for his new SeaPlane rating. We all knew Eli left with his brother to go fishing in the New England area but he was very tight-lipped about his plans for the SeaPlane work until it was all over. We are proud of you, Eli. Keep up the good work!
DON MILLER:
After 24 years of
hard labor, Don finished a beautiful restoration job on his BT-13. With only 20 hours on the Hobbs, Don flew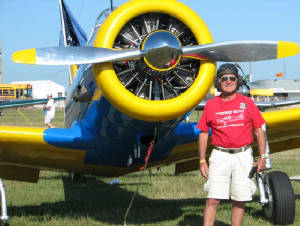 his pride and joy to AirVenture 2009 at Oshkosh; parked her on the juding line, waited and hoped for the best. Well, congratulations, Don for winning the "Best of Trainers" award AND the Silver Wrench Award. Outstanding Performance!!!!!!
VINCE & DONNA MINNELLO
A huge high 5 for Vince & Donna for completing their first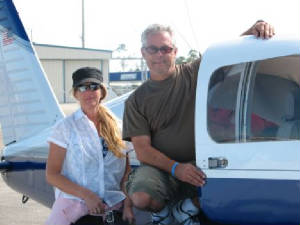 trip to the Bahamas in their Piper. Vince & Donna were part of the Team W

ild Mama

group that just came back from a 3 night trip, visiting Freeport, Staniel Cay and Exuma. Vince also demonstrated his prowess on the trapeze with an impressive back sommersault dismount! Whoo-hoo!
NANCY MOORE: A hearty congratulations to Nancy for earning her CFII!!! We will not talk about the scheduling messes that Nancy seems to experience in getting to the check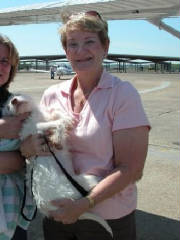 rides ... but once she gets there, she nailes them all. Congratulations, Nancy: we will see you with your head in the clouds soon.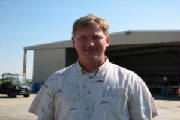 KARL MURRAY:
In addition to being "pilot extraordinare" now Karl has gone and gotten his A & P license. The airframe and powerplant is a very difficult license to get and requires a couple weeks of intensive training and two days of oral and practical testing. Way to go, Karl!
NEWSFLASH:
And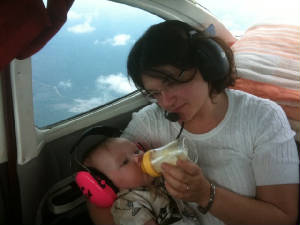 more congratulations to Karl as he just passed his commercial check ride. Woohooooo!
Another
NEWSFLASH
: Karl has been busy ... in more ways than one. Not only has he now competed his IA but he also has a new baby daughter, Brooke, who has taken her first airplane ride. Keep up the good work Papa!
JOHN POLLARD: Congratulations go out to John for getting his instrument rating. John has been working on this one for a while.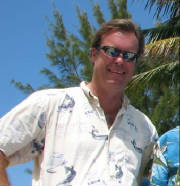 Congratulations for joining the rest of us in the clouds!