March 2011
- Other than Sunshine Derby day where LaBelle was shrouded in fog, the past week in the Fort Myers area has been beautiful: cool, clear mornings and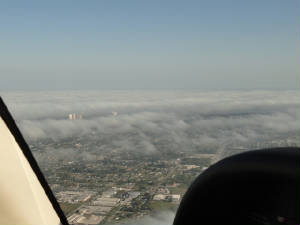 great visibility. We were anticipating a clear launch Friday morning as Ellen and I departed in her Cirrus to North Palm Beach County Airport to pick up our special passenger, Bee Haydu, one of the 200 or so remaining W.A.S.P.'s. Clarity was not to be as Fort Myers was fogged in, delaying our departure by about 1/2 hour and giving Ellen the chance to launch out in minimums. She powered up the Cirrus and make a quick climb, breaking out at 400' to that beautiful, blue Florida sky. We went high above the haze layer (yes, the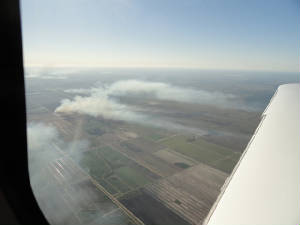 beautiful, blue Florida sky almost always includes haze) and over the sugar cane fires to the east for a quick flight into North County where Bee was awaiting our arrival.
This is a special weekend for the kids in Mobile: ARC and the Boys and Girls Club are hosting career day as part of the Adopt-a-Racer program. The girls will have the opportunity to learn about various aviation careers - both flying and non-flying - and meet some ladies who serve us in the aviation industry.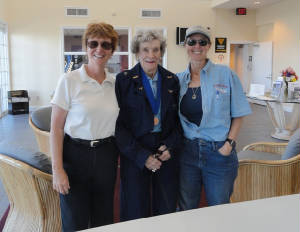 Ellen, Bee and I launched out from North County on schedule. The ground fog dissipated and the tailwind aloft left us cruising about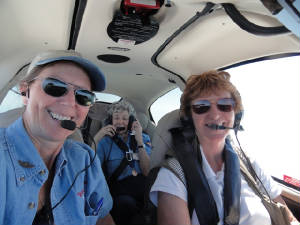 180 kts over the ground. It was a short 3 hours to go. It was a pleasure to have Bee along with us and we kept up a lively conversation over the rather annoying interruptions of ATC giving us directions and talking to other pilots. Having to talk to ATC can be a problem when the conversation in the cockpit is so good!
We landed at Mobile Downtown and hit the ground running. We headed off to see Inger and get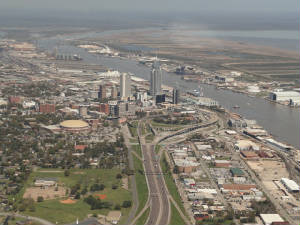 directions to the Boys & Girls Club Camp to start work on next months' activities - TOP SECRET at this point! The camp is a beautiful setting and Bee got some rest under the shade trees for a bit before heading off to dinner at Wentzel's. We had pre-arranged our dinner meeting so we could fit everything in this short trip. Bee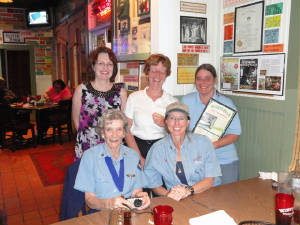 is a rock star in aviation circles and everywhere we went, folks wanted to meet her and take pictures. Ellen and I were thrilled to be there with her. We met Robin Tillery from TCM and Inger for dinner and we laughed and told stories for the better part of 2 hours. Exhausted and knowing we had a long day ahead of us, we headed back to the hotel for some much needed rest for all of us.
Saturday morning found Linda Wehrle knocking on my door at 0800 to fetch me for the ride out to the Sonny Callahan Club to help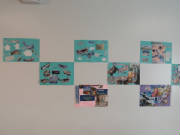 finish the set up for the career day event. We have assembled a varied and impressive group of professional women to talk about their careers and we were looking forward to the presentations as much as the girls. As the girls started arriving, I noticed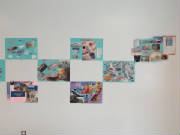 the collages on the walls and some that girls brought with them. From the "all call" on Facebook, Inger got a TON of magazines that were distributed to the Boys & Girls Club centers. The girls got to read the magazines and make collages on various aspects of aviation. The collages were all quite good but the one that caught my eye was the "Girls With Wings" collage
featuring Lynda Meeks. Unbeknownst to the young ladies who made the collage, Lynda was one of the featured presenters. You can imagine the look on their faces when they got to meet the lady about whom they had recently read and pictured.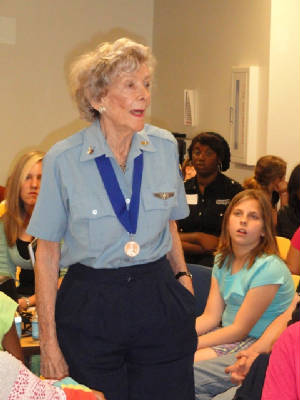 Career Day - "No Limits" started off with a presentation by Bernice "Bee" Falk Haydu, 44-7 W.A.S.P. Bee captivated the young (and older) audience with her slide show and talk about her flying career and in particular her days as a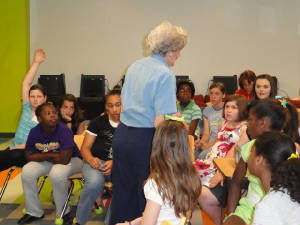 W.A.S.P. She had pictures from the 1940's training days at Sweetwater, TX and told of the weather extremes that they had to face as trainees; the challenges of learning to fly the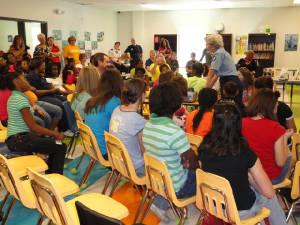 military way; about the rewarding experience of serving her country and about the Congressional Gold Medal Award. The girls were full of questions including "Did you ever have to kill anyone?" and "Did you ever get a scorpion or a rattlesnake in your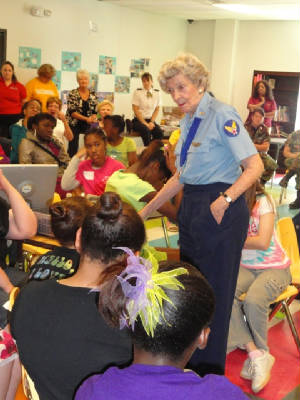 bunk?" But they also wanted to know if she ever got lost flying, what to do if you run out of fuel and boot camp life. Bee concluded with a mention of her book, "
Letters Home
". Her presentation was greeted with a hearty round of applause, requests for pictures, book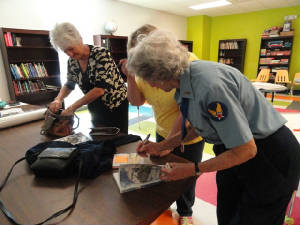 signings and many words of thanks both for her appearance for the kids and for her service to our country.
From the past we moved right into the present with
US Coast Guard
officer and pilot, Julie Padgett. Julie, who just came off a 0300 search and rescue call, talked to the girls about her career in the US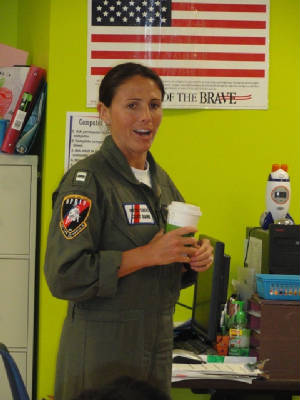 Coast Guard. She spoke of the education and training required and the different fields available to the girls depending on whether or not they want to go to college - there is something for everyone with the Coast Guard. Julie showed some slides of the different aircraft that are used in the Coast Guard and talked
about the missions - search and rescue, assisting with border patrol and anti-drug smuggling operations, homeland security and missions like the recent oil spill in the Gulf. The girls were particularly interested in hearing about the boot camp and the 8 weeks of training to get their careers started. Julie finished with a lively question and answer session and departed for her home to rest up after her all night mission.
After a brief break, the girls divided into 4 rotating groups for more activities and career learning.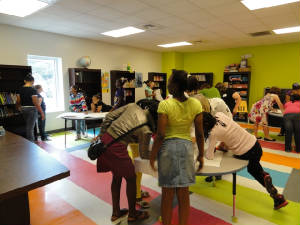 The first 2 groups stayed in the big room with Lynda Meeks, Founder of
Girls With Wings
. Lynda does an interactive hour long program teaching girls about aviation but also about life skills: never look at the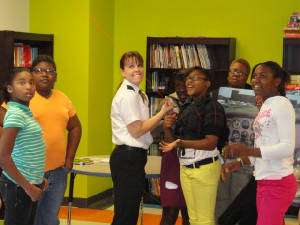 big picture and become overwhelmed. Always break it down into smaller, easy to manage tasks and build on them to accomplish the bigger goal. Lynda craftily takes the kids through everything they need to know to fly, breaking it into the smaller tasks to
prove
to the girls that even something seemingly so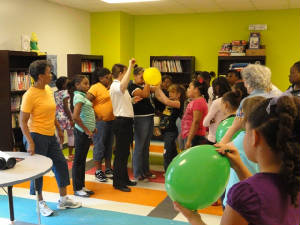 complex is really easy and that they can all learn to do anything they can dream to do. Lynda finishes with an airplane balloon launch showing the girls that even the sky is not the limit!
Group 3 started with Lisa Brunegraff, Senior Engineering Specialist for
Airbus
. Lisa is an airplane interior designer and got the girls thinking about the things that are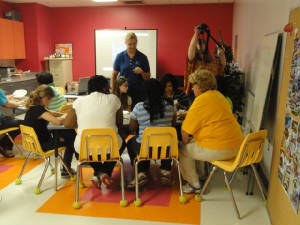 necessary to design and construct an aircraft, pointing out that an aircraft needs an interior just like your home. The girls were amazed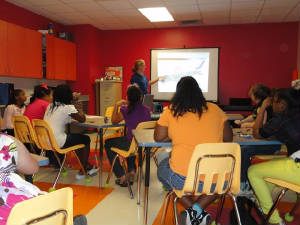 at how many similarities there were between the two. Lisa talked about the Airbus A380 and how it dwarfs the A300 that they girls had toured just last month. The engine alone is over 12' tall! Then Lisa explained how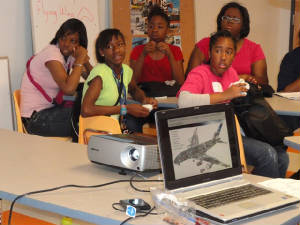 it takes four years to construct an A380 but showed a video of the project - start to finish - in only 4 minutes. WOW! Talk about fast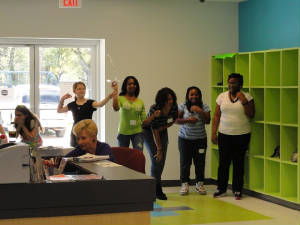 forwarding a project. Just as Lisa designs airplanes, the girls got to try their hand at constructing a styrofoam plane, complete with test flights for distance and accuracy. I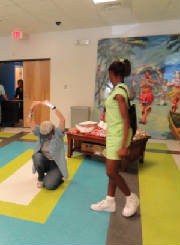 took a bit of a pounding on the accuracy challenge but it was all in good fun.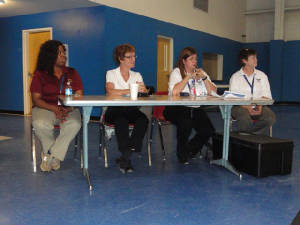 The final group started in the round-table discussion of non-flying aviation careers featuring Renee Blackmon,
UPS
Ground Support Supervisor; Ellen Herr, retired
Air Traffic Controller
; Valerie Gray, Communications Specialist and Kimberly Doerner, Director of Human Resources,
GAT Ground Support
; Robin Tillery, Marketing &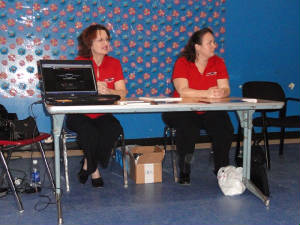 Communications and Theresa Ballard, Aviation Technology & Customer Service,
Teledyne Continental Motors
; Lt. Col. Jack Bentley and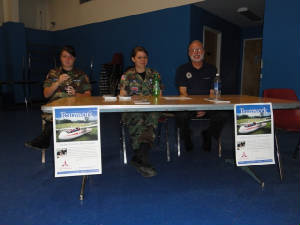 Cadets, Helen Clark and Jessica Howe,
Civil Air Patrol
. Each representative gave an informative overview of her company and profession and they all fielded questions from the girls and had time for up-close-and-personal chats about available opportunities, education and "a day in the life of...". The whole 3 hour long program ended with pizza and a meet and mingle where the girls could inquire more on their own and meet their future employers and co-workers. It is exciting to see how the girls are blossoming and feeling encouraged for a future full of hope and opportunity.
But for our Florida crew, daylight was burning and we had lots of flying to do before our day was over. Bee, Ellen and I acted as a well oiled machine to make our way back to the airport, taking care of all of the necessities for fuel and food along the way. We boarded our winged steed and set off to the east. Ellen filed IFR again to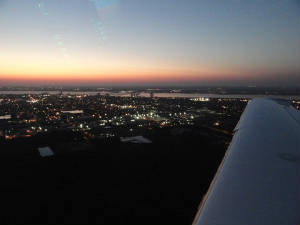 get through the military zones and restricted areas and short cut our way across the panhandle of Florida. With everything "cold" late on a Saturday afternoon, we made quick work of the trip back to North County Airport, even with a slight headwind. With Bee safely back at home, Ellen and I finished our flight to the west and into a spectacular sunset and the rising of the "supermoon". It was a wonderful and successful weekend; and as Bee said: "I think I got out of it more than the kids." It was a weekend well spent.