HAPPY NEW RACE YEAR! .... and we're off. It is time to start making preparations for the 2015 Air Race Classic. After 8 years of racing I am fairly well convinced that the race is not won or lost in June: it is won or lost January through May. There is such still competition now and so many great teams that thorough preparation is the way to get the job done.
Tomorrow, January 2nd, is entry day. We will get our entry in shortly after the noon opening time so it is done. We have the papers we have the plane, we have the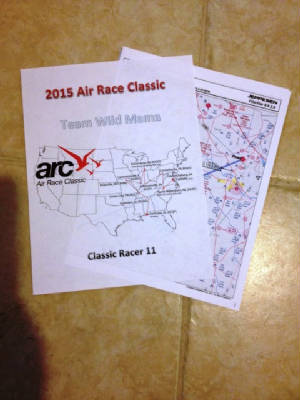 pictures and we have THE team this year. YES, Ying (Laura) Gao is back racing with us. She is the brain in the back and we are so excited to all be together again. 2010 was magical for us from the take off, the win was just icing on the cake. I know we will have a great time together as we have become such dear friends over the past 5 years. So my job starts now: making the NAVLOG. It is printed but not yet studied. That is my biggest job. My teammates have their own duties over the next 5 months - top secret, of course.

This year, Team Wild Mama will be participating in the Aviation Adventures youth program in conjunction with the race, so be sure to check the Aviation Adventures, Inc. web site for fun pre-race stuff that we will be doing with the girls.
March 29, 2015: Good thing we have done this before. Life has been incredibly busy for Team Wild Mama and we have scarcely had time to think of the race. We have been working with the kids of the "No Limits Girls Aviation Program". You can read that on Aviation Adventures web site. But as for racing .....
Vern finished Wild Mama's annual early this year so as not to conflict with the handicap run. For a second time, the Slick mags FAILED so we have abandoned Slick and moved on to the new Bendix Mags (Continental Motors customers officially now). Wild Mama is running great! We have been in contact with our handicap check pilot and will work on scheduling a date after May 1st. There is just too much flying to do in the mean time.
For our side, the NAVLOG is done, educational seminars are done, paperwork is done. Now just study the route and the rules and dream of the fun times to come.

May 15, 2015: Approaching 9 years racing we have become quite efficient in our planning and do not have the stress of the race preparation like the first time
racers. We have spent quite a bit of time talking to our baby birds which has brought back memories of my first race and the jitters and uncertainty that went along with it. But with the passage of time and experience comes the calm of knowing what to expect - a nice feeling.

Wild Mama is no exception. She knew her spa treatment day was coming and she looked forward to primping for the race. She was stuck in Destin, FL for early a month, outside in the elements and she was quite dirty. Immaculate Flight did their usual outstanding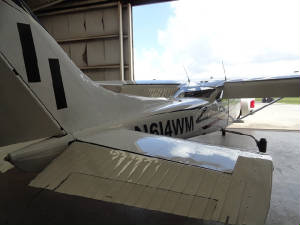 job on her, however. She is slick and shiny with not a speck on her and she is race ready. Vern took care of the maintenance, making sure all was well. It is his goal to make sure that we do not break down. So far he has done his job; but he knows there will be h--- to pay if something happened to stop us from racing!

Today is handicap day: our annual "date" with handicap check pilot, Marvin Guthrie. Marvin has done our pre-race handicap every year since 2010 when ARC started individually handicapping planes. He knows Wild Mama and has seen her through all the iterations of original, then hail damage, then new paint, then new engine, then Gami injectors and this year new mags. She is in a constant state of change it seems but Marvin know how to get the best out of her for her handicap flight.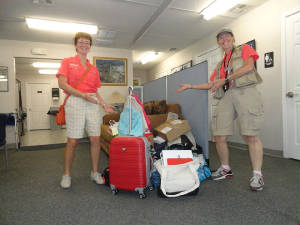 Our day started early. I left X14 at 0'dark 00 and fetched Ellen at KFMY at 0600, just as first light was thinking to approach. We took a few minutes to load our stuff. Usually, we empty out the airplane before a handicap flight because there is supposed to be NOTHING excess in the plane: no tie down, extra headsets, extra cleaning or maintenance supplies, cover, etc. Ellen and I were on our way to the SE Section 99s Sprig business meeting so we had the usual airplane stuff PLUS all of our clothes and stuff for the business meeting. Ooooo was there a lot of stuff. Fortunately, it too a while to load and we had light by the time we left.

We arrived at Clearwater (KCLW) just a few minutes after 0700 which was good because the airport is "closed" at night due to being a noise sensitive area. Our timing was good. It took 30 minutes to unload, wipe down the new oil leak on the belly, refuel, gather Marvin and get in the air. We want the smoothest possible air for the handicap flight and mornings out over the water usually yield the best result. We got to altitude, leaned the mixture and sat back to let Wild Mama do her thing. It was a good smooth flight.

Our timing must have been good because we received word the following day that our handicap flight was accepted. With this piece of the pre-race preparation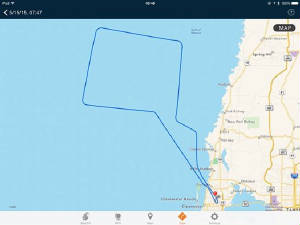 puzzle completed we only lack the remainder of our education, studying the rules then get to the start. We are getting excited with just more than 30 days to go!
June 11: Ready to Race - With 10 days to go to the race, Team Wild Mama is 100% race ready: our educational seminars are complete, the race book is complete, ARCpaperwork is ready, Wild Mama has been successfully handicapped and is ready to fly! As of now, the plan is for a Keys departure on Saturday, June 13th with a stop in LaBelle. We will pick up Ellen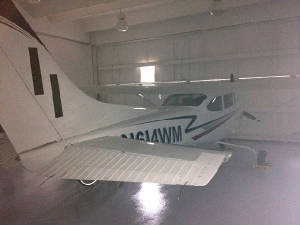 and Laura on Wednesday and head north for the start, weather permitting. If the weather looks bad on Wednesday, we will back up our departure to Tuesday. Arrival deadline is Friday at noon ... but we do not want to wait until the last minute as it is much too nerve racking!
June 12, 2015 - En route, Leg 1: Leg 1 was a day earlier than anticipated due to forecast 80% showers in the FL Keys. Friday was an overcast day but I was greeted with a nice tailwind - hopefully a good omen. On the way to LaBelle, listening to the local CTAFs, I hear N678BW - it's Ellen shooting a practice approachat KIMM. I radio her and we meet for lunch to talk racing and strategy - a/k/a outfit coordination... we have to look our best to do our best.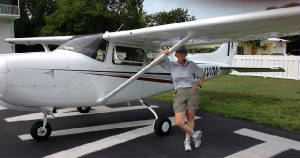 Vern Has his last look at WM for the final oil change and debugging and change a valve cover gasket to stop the leak that developed after the handicap flight. It has been a pain keeping the belly clean so hopefully this will do the trick. It is also time to get race stuff together and re-pack after emptying Wild Mama of all of her contents for the handicap flight. Just a few days to go before leg 2 to pick up Ellen ...
June 16 - One day before departure: We are watching Facebook to see all of the racers make their way to the start. Some are coming from southern Caifornia and have to cross a lot of country - and a lot of weather. We anxiously watch as Tropical Storm Bill makes landfall in Texas and we hope that all that need to cross that part of the country have already done so. This reminds us so much of our trip out to Washington in 2013 where we got "stuck" in Hot Springs, AR for 3 days while waiting for tornadoes and severe storms to pass. We re-routed our trip to avoid the worst of the weather. Hopefully this year getting to the race will be most uneventful. Afternoon storms forecast for Wednesday so we need to make tracks .... and fast..... See you all at the start!
June 17th - Freericksburg bound: On a beautiful clear pre-dawn June morning,, Wild Mama was rolled out of the hanger at Vern's shop for the next leg in her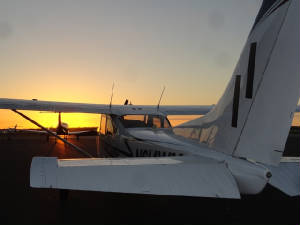 journey to the 2015 Air Race Classic. The morning was cool enough that I needed a jacket as I departed for Fort Myers to fetch Ellen. We had a light tailwind on the short trip - hopefully an omen for things to come. Ellen was waiting at the door on one side and I on the other of the closed FBO. 0700 on the dot they opened and we packed and rac off in a flash.
Our next leg was to Pilot Country to fetch Laura then off to the races. We had a nice send off from some friends of Matt and Laura as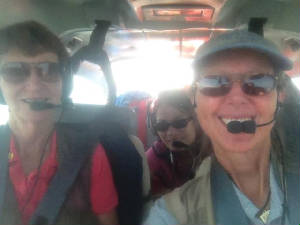 we loaded and blasted off into the now hazy Florida skies. We completed the next leg of a rather uneventful flight landing in Claxton for our fuel stop. The last leg in to Fredericksburg was going to be racing the storms that comes in the heat of the afternoon. We dropped down under the clouds as we appraoched the airport and landed just as the light rains began. Our friends were there to greet us. Lots of racers have already arrived and we are happy to see all of them and meet a new buch of racers who will soon become our new best friends. Tomorrow is inspectons and credentials and then briefings before departure on Monday morning.

June 18th - Inspections: A great day today: in addition to seeing even more of our new best friends, we were able to get our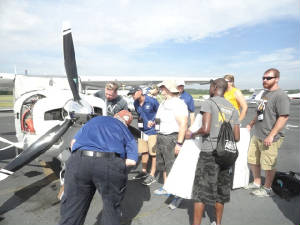 credentials, aircraft logs and aircraft inspections completed before noon. Whooo-hoo! We now have no official obligations until Friday evening "clock-tail" gathering sponsored by Abingdon Watches. Thank you Vern for being so well prepared, having all our log books in order and maintaining Wild Mama in such an awesome fashion!!!
June 23, 2015: Withdrawn - Ellen and I spent the last day agonizing over a decision. Team dynamics failed to the point of compromising the safety of flight. It was at that point that we decided to terminate our participation in the 2015 Air Race Classic and withdraw from competition. It was a difficult decision but safety is more important than racing. Thank you all for following our journey and please follow pictures on facebook as we continue on to the terminus to enjoy the party and celebrate a great adventure with fellow racers.