PRE-RACE PREPARATIONS - May 29th: Well, it looks like we have been doing nothing based on the posting on the web page .... but we have been really busy with pre-race preparations. We have flown 2 handicap flight, the first of which was unacceptable because, it appears, we hit a temperature inversion and it threw off all of the numbers. Darn shame too because the flight conditions weere otherwise perfect. The second flight in Homestead, FL with racer, Susan Carastro was a success. Although the conditions were nmot as pristine, we had a great flight and got a good number! So Wild Mama is ready. She was detailed and made mechanicaly ready BEFORE the handicap flights. Now we need the final pre-race oil change (happening as we speak), install lthe numbers on the cowling (NOT happy but do not get me started there), and give her the final bath. Since her handicap flights she has been back and forth to the FL Keys, to the Bahamas and to Mobile and back. She is resting in the conform of Vern's hangar now, ready and raring to go!
As for the pilots: Ellen and I have completed all of our paperwork, eductional seminars and pre-flight preparation. We feel that we are ready and lack the last details pre-departure (like shipping stuff so we have what we need where we need it). We will be meeting for the final "ready to go" chat on June 9th, nicely to coincide with "girls day" at Becky's house. Our planned departure day is June 14th from KFMY - assuming the runway will be open by then. If not, X14 is plan B.
JUNE 13TH - Heading North: We had originally planne to leave Wednesday for Frederick and the start of the race but forecast bad weather throughout the southeast spurred us on to leave a day early. We did not get out of Fort Myers early today. Since we made the last minute decision to leave, it took us a bit to get going. Once we were airborne we ducked and dodged storms and clouds. ATC put us on a northerly heading for most of FL and well into GA, completely negating the flight plan we filed.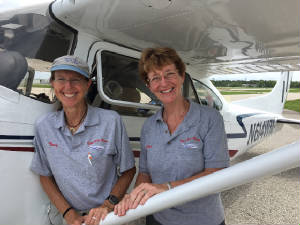 After about 3-1/2 hours we finally had Darlington, SC, our first fuel stop, in sight. We dropped in to a very quiet, deserted airport and were greeted by the airport cat who insisted on checking out the airplane - inside and out! After fueling and getting a quickpicture with Flat Stanley for little Tyler, we heading out for the last leg to Maryland.
Storms were forecast for 30% coverage and as we flew on into the afternoon, we ran the risk of encountering more and more storms. The were blowing up along the mountain ridge. We filed a bit more to the east and were pretty happy with our buffer until the dreaded words rang through the radio: "N614WM, we have an amendment to your routing. Advise whern you are ready to copy." Ugh. MRB V166 EMI - well that added 40 miles. Then again: Prepare to copy. BUBBI T287 TOMDY, KFDK. What???? That added ANOTHER 1/2 hour to the trip AND took us right through the storms. Ellen got back on the radio and made another routing suggestion for weather. GVE MRB. OK, great.... then again, back to the original MRB V166 EMI.... ARGH!!!! Finally en route to MRB we got direct to destination. Yeeeha!!!
We arrived after an uneventful flight and were lucky to stay with fellow racer Lin Caywood. We had a nice evening and slept like rocks.
JUNE 14th - PEDAL, PEDAL, PEDAL: For our abbreviated pre-race vacation, we decided to rent bicycles. Wednesday was a tour of the Carrol Canal area of Frederick, MD. Very nice, pedertrian friendly and lots of places to stop and eat for dinner.
Thursday we were a bit more ambitious. We made a 25 mile bike ride along the Westen Maryland Rail Trail from Handcock. It was a beautiful trip and a nice relaxing day. W returned back to the hotel for the news that the ARC Board decided that our race number on the tail could be confusing with the race numer on the cowling and we have to remove or cover the number. The first protest of the race was filed. We comply with PUBLISHED ruled, but this new "phantom" rule that was just introduced to us at the last minute is an issue.... We will see what happens.
JUNE 16th - INSPECTIONS: Time to start getting down to the business of racing. Today was the first day of credentials and inspections. We were one of the first in line and, as usual breezed through the paperwork portion of the program without a hitch. Bobbi Boucher was our inspector this year. It was good to see her back after her accident a couple years ago. Again - a breeze with the inspection process. We filed our protest with the stop chair and headed out to enjoy the remainder of the day.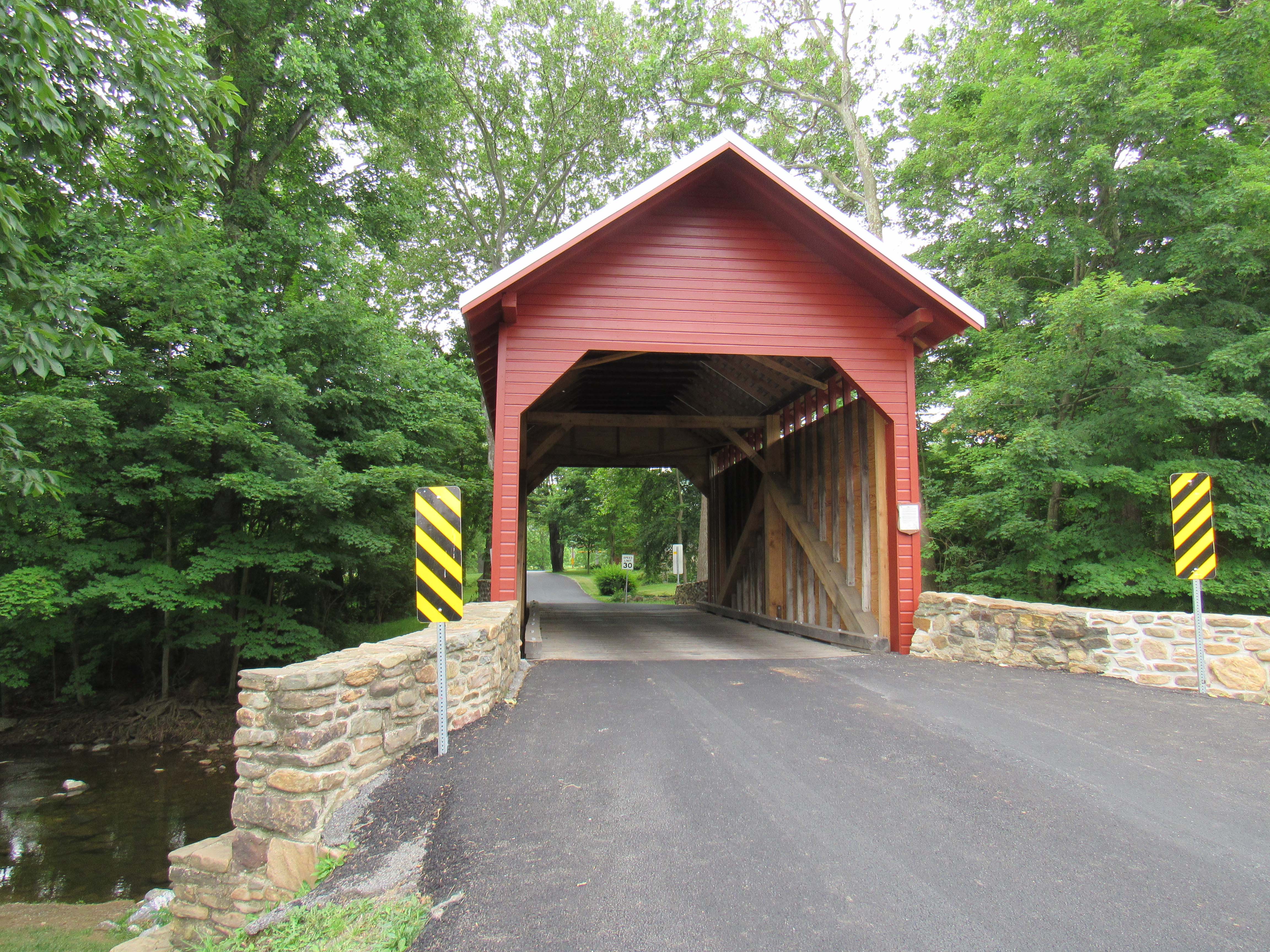 There are 7 covered bridges left in the State of Maryland and 3 of them are in Thurmont. The biking trail guide said "rolling hills" .... hmmmm..... I supposed the rolled more than Ellen and I were willing to roll so we made the tour by car. Vern had bought us a GoPro camera to use for the trip but we had not had time to test it out yet. We installed the camera on the front windshield so we could film passing through the bridges,listening to the rumble of the road boards as we went over. To say "operator error" was an issue is an understatement. After quite a bit of fumbling we finally got the suction cup to stick on the window to complete our task. Glad we practiced.....
JUNE 17th - HARPER' FERRY: Today was our last real day off before the serious business of racing. We headed out to do our last bike ride along the C & O Canal at Harper's Ferry. The Canal trail was flat and gravel but was an easy ride. We walked around town a bit, had lunch and got summoned back to the airport. It seems that the judges denied our protest and told us to cover that confusing # 11 on our tail. Nothing else we can do so we headed back to invetigate how to "do the deed". Classic 27 had the same issue and their white paper was insufficient to cover their black numbers. we cogitated a bit and finally decided to try to remove the numbers. Vern had said they would be difficult so we were prepared for the worst. Fortunately, however, we found a loose spot at a rivet and pulled! They came off without breaking or fraying. It was just a matter of cleaning the glue back now. We sumped out some Avgas and started rubbing. With a bit of effort, we think we got everything off. We did not want any residue to collect dirt so we got some Pledge and sprayed the affected area to seal the area and stop the accumulation of dirt. Done.
Our evening Meet the Racers BBQ was at the ball park. The racers were the honored guests and we got to go down on the field and wave at thr crowd before the game. It was a fun evening and a good transitiion to business-time on Sunday.
June 18-19 - Briefings: The briefings were actually brief this year and we got out early, giving us time to wander around the town and enjoy the area. We stayed close to the hotel and worked on last minute race things and updating ournrace books with new information received from the briefings. We were ready to race!
June 20-23 - Race days: The race got off on a delayed start. It had rained wuite a bit the night before and they could not fuel the planes tied in the grass. We had to pull them all out in the morning and fuel them on the pavement because the grass was too soft. Bynthe time we started launching, it was just past 9:00 am. Thismrace was filled with head winds for us. It seemed that we could not find much else regardless where we looked. We got out ahead of some storms and ended up in a small,pack with Classic 2, 10 and 24. It was great traveling with a nice bunch of racers. We all got in by early Thursday morning to the terminus in Snata Fe, NM.
After our arrival, we watched the progress of others and discovered where the tailwinds were. Seems oir strategy was a day early! Ellen and I came tomthe conclusion that we flew a great race but at the wrong times.
June 24 - 26 - Post-race: After the start issue with the numbers and the last 2 years of "unusual race issues" with the judges, we approached our scheduled judges meeting with skeptical optimism. All racers got aircraft inspections this year and all teams met with the judges so there was not a hint of anything to come. Our "skeptical optimism" turned to utter devastation at the judges meeting. We were cited for 3 low flybys. Vern had given us a go pro camera this year to record the flybys. He said that we needed to document and protect ourselves. Unfortunately, even with documentation, the flyby issue was not a discussion but a flat statement that the judges are "taking the word of the timers". It did not matter that we showed proper altimeter setting and altitude on our part and from our perspective inside the cockpit. But that was not the only "ding". I was cited for "unsportsmanlike conduct" for debating with one of the board members about the arbitrariness and change in the number rule at the start of the race. We added "dumbstruck" to "devastated". Our goal every year are a clean penalty free race. After 10 years of no penalties, we cannot convey the depths of our disappointment at the results of having been told we violated rules and acted inappropriately. In our heart of hearts we know we did NOT commit these infractions but have no choice but to live with the consequences of the judges decision.
June 27 - Long ride home: We got up early and headed to the airport for the long ride home. We knew that there was a large possibility of afternoon thunderstorms in FL so we figured it would be a safe bet that the trip would take 2 days. We had an easy first leg into F10 Henryetta, OK, chatting with Classic 26 on thee journey. This part of the country is filled with crop circles and windmills - always favorites for me to see. We climbed up to 9500' for a cool smooth ride with more til winds than we saw for most of the race! After a quick fuel stop and a little joke for Classic 26, we parted ways and turned toward the south, stopping for the night at KMEI. This is always a favorite stop as the FBO is friendly, has great fuel prices, a really nice courtesy car and facilities for hotels and restaurants nearby. After a good nights sleeps we made our way home on the 27th. We had a little ducking and weaving to do through some build-ups that occurred early but were safe and sound home by noon.
In reflecting on the race this year, I am going back to the little side trip we made to Madrid, NM after arriving at Santa Fe. I purchased a beautiful piece of Cerrillo tourquoise embedded on a shell with the indian symbol for journey. Little did I know how appropriate that would be. All journeys have a beginning and and end. I think I have come to the end of a long and wonderful journey participating in ARC. But just as this journey is ending, a new one is already beginning and we will embrace the spirit of adventure in this new journey as we have with all others past. Soooooo .... stay tuned to see what adventures await Wild Mama!!